Appetizer #12
I made this for a New Years Eve party years ago. It was really yummy, and easy to make pretty.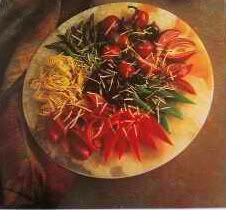 Antipasto
1 16 oz jar mild cherry peppers
1 package frozen artichoke hearts (thawed and drained)
1/2 lbs cooked asparagus spears
1/2 cup pitted black olives
1 medium red onion cut in to wedges
1 green bell pepper cut in to triangles
1 red bell pepper cut in to triangles
8oz Kraft house Italian with olive oil dressing
4 ounces shredded Parmesan cheese.
8 oz hard salami
Arrange veggies in a row in a 13X9 glass baking dish. Pour dressing over and 1/3 cup of the cheese over it. Cover it and refrigerate for 2 hours. Drain veggies, reserving marinade. Arrange veggies on to serving tray, and top with remaining cheese. Drizzle marinade and serve.