In European Tradition Mushroom Cookies are Served from a basket Given to Each Guest During the Holidays for Luck.
This is one of my favorite holiday cookies to make, and I'll be making them next week at our family cookie bake. This week I'll be sharing several of my favorite holiday cookies recipes. I'm starting with my favorite. Not only do they look really cool, they are delicious, and a welcome change to the same old same old holiday cookie platter.
Mushroom Meringue Cookies
2 Egg Whites
pinch of cream of tartar
1/2 cup of sugar
1/2 cup semi sweet chocolate chips (melted)
Unsweetened cocoa powder for decoration
For this recipe you will need parchment paper and either a large pastry bag with a large writing tip, or a large Ziploc bag with one corner cut off.
Some tips before we start. Use a metal bowl to whip your egg whites and put it in the freezer for a few minutes before you use it. Also make sure your egg whites are cold.
Preheat oven at 250. Beat egg whites in a small bowl until foamy. Add a pinch of cream of tartar and beat until soft peaks form. Add sugar about 2 tablespoons at a time until stiff and glossy.
Line baking sheet with parchment paper. Spoon mixture in to pastry bag with tip, or Ziploc. Have a glass of water on hand. Pipe out a round cap for the mushroom, about an inch or so in diameter. It's okay if they are all different sizes though, because any differences and even deformities will make them look even more like real mushrooms. Next pipe a 1 inch high cone for the stem of the mushroom. Dip your finger in the water and then use the tip of your finger to flatten out the top of each cone, and any tips that might happen on the top of each mushroom cap.
bake for 30 minutes, turn off oven and let them sit in there for an hour.
Remove from oven and cool completely.
Assembly
Using a spoon or (I use my finger) make a little hole in the middle of the flat side of each cap. You will break a couple at this point. At least I do which is why I always double the recipe.
pour a small amount of melted chocolate in each hole and put the stem in.
Put them aside to cool and dust with cocoa powder.
Enjoy.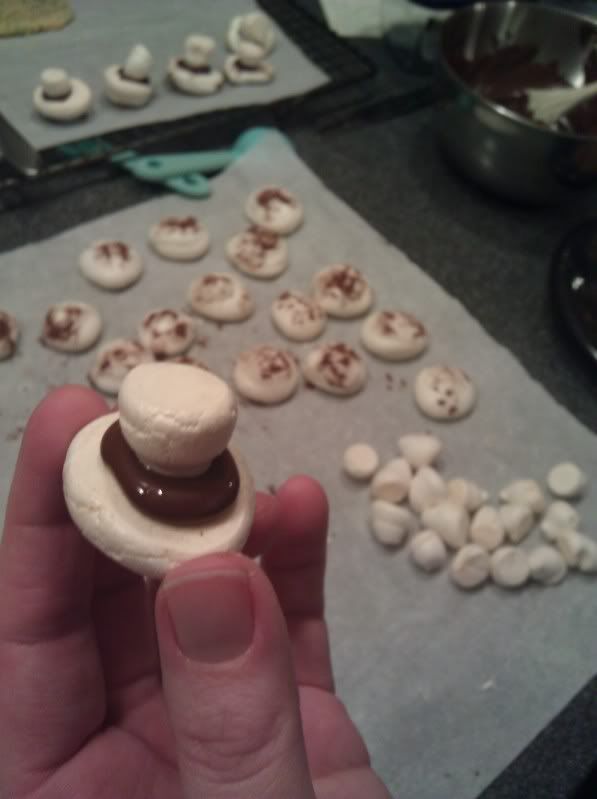 These can NOT be kept in a tin with the rest of your holiday cookies. I learned the hard way, putting them in a tin turns them in to a chewy mess. They keep well in a little tin foil tent.