Who knew there were so many ways to make French Toast. French Toast dates back to the 4th century and in most parts of the world is a dessert. I, like many Americans, love nothing more than to turn a dessert in to a breakfast.
Starting with my person basic French Toast recipe.
French Toast
makes about 4 slices
4 slices of stale bread (sometimes I just leave a few out the night before)
2 eggs
2 teaspoons vanilla
powdered sugar (for dusting)
cinnamon (for dusting)
1/4 cup of vegetable oil.
Preheat oil in a small frying pan on low heat.
In a shallow bowl whisk together 2 eggs and vanilla extract. Dip bread in covering it completely but not soaking it. Place in pan with hot oil. While cooking on one side, dust the side facing up with powdered sugar and cinnamon. Flip once golden brown. The side with the sugar will caramelize, it won't take as long to cook as the first side so you have to keep an eye on it, burnt sugar smells terrible. Place on napkin or wire rack to dry. If using paper towels, be sure the sugar side is up, or your toast will stick to the paper.
We serve ours with a ton of fruit and a dusting of powdered sugar.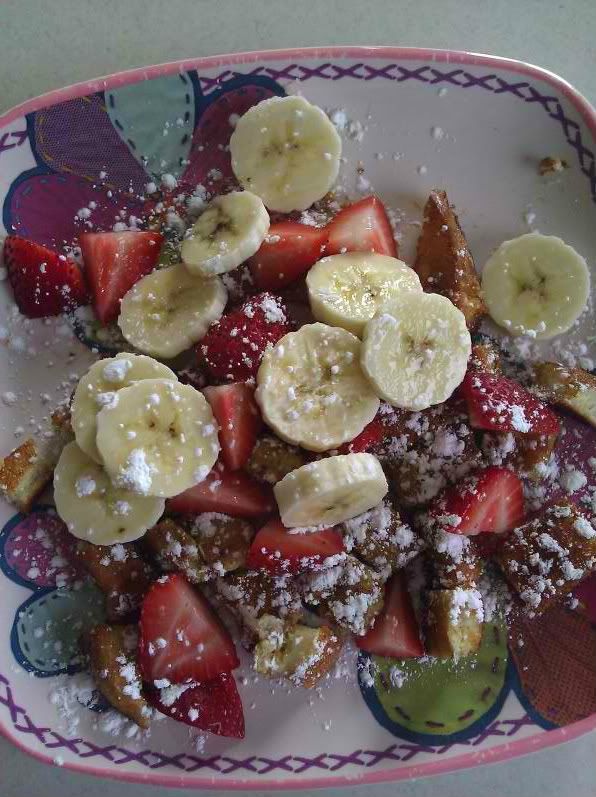 Another one of my favorite recipes for French Toast is
Cinnamon Roll French Toast
1 container of Pillsbury Grands Cinnabon Cinnamon Rolls
3 eggs
1/4 cup of milk
1 teaspoons vanilla extract
1/4 cup vegetable oil
3 apples
3 tablespoons brown sugar
3 table spoons of butter
1 tablespoon cinnamon
Bake cinnamon rolls according to directions on the package. While rolls are baking peel, slice and core apples. Place in a baking dish and place sliced butter on top of apple slices. Add brown sugar and cinnamon.
When rolls are done, let them cool and place apples in the oven stirring occasionally for 20-30 minutes or until tender. In a shallow bowl whisk eggs, milk, and vanilla. Heat oil in a saute pan. When rolls are cool enough to handle slice them long ways so that you have doubled the amount of rolls but made them thinner.
Dip each roll in to batter and fry on both sides.
Serve topped with apples.
Another one of my favorites is
Capin Crunch French Toast
4 slices of bread
4 cups of regular or peanut butter Capin Crunch cereal (crushed)
3 eggs
1/4 cup milk
1 teaspoon vanilla extract
1/4 cup vegetable oil
preheat oil in a frying or saute pan
Place crushed capin crunch in a shallow bowl or pan
In a shallow bowl whisk eggs, milk, and vanilla together
Dip bread in egg mixture, then transfer to dish with cereal in it. Coat the bread in cereal and place in hot oil. Brown on both sides.
Serve with powdered sugar or syrup.
Some other great ideas for french toast
Adding cinnamon and nutmeg to your batter
Frying it in butter instead of oil
Adding cinnamon, brown sugar, and syrup to the batter
Topping them with toasted pecans and powdered sugar
How do you like your French Toast?
Coat bread in egg mixture and then