Today was my Son's first birthday party. I wanted to do something tasty, but also whimsical and fun. The theme of the party was 'Little Monsters" I had my 3 year old daughter make the decorations. which we hung from the ceiling over the table. When making a recipe specifically for someone, I try to take their favorite flavors in to account. My son would be happy to eat bananas every day of his life, so I knew I needed banana in there. I came up with Chocolate Cupcakes with a banana cream filling. My niece has ceiliac disease, so I made them gluten free, I will show you how to make them gluten free, or gluten filled, but I assure you, no one will miss the gluten in these babies.
Chocolate Cupcakes
makes 16 cupcakes ~350 oven
1 stick butter, room temp
1 cup + 4 tablespoons sugar
2 large egg, room temp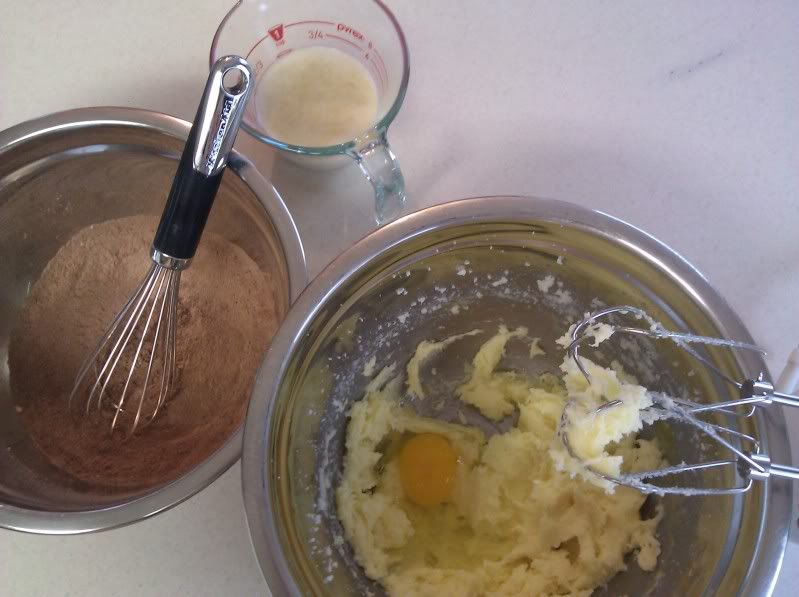 1/2 cup + 4 tablespoons Gluten Free Pantry all purpose flour
1 teaspoon potato flour
1 teaspoon xanthan gum
1/2 teaspoon baking powder
1/4 teaspoon baking soda
1/4 teaspoon salt
1/2 cup high quality unsweetened cocoa powder like Valrhona brand
3/4 cup milk
1 teaspoon vanilla
1. Beat butter until softened. Add sugar and beat until light and fluffy, about 3 minutes.
2 Add egg and beat until well combined.
3. Combine dry ingredients in a bowl and whisk together.
4. Measure out the milk and vanilla and stir to combine
5. Add about a third of the dry ingredients to the butter/sugar and beat to combine. Add about a half of the milk/vanilla and beat to combine. Continue adding, alternating between dry and wet and finishing with the dry.
6. Scoop batter into cupcake cups about 2/3's full. Bake cupcakes for about 22-25 minutes or until a cake tester comes out clean.
If you do not want to make these cupcakes gluten free, simply sub the gluten free flour for regular flour and eliminate all the ingredients in bold print.
For the filling, I simply made whipped cream and added banana flavoring to it. I had plenty left over which I used to top some fruit and a dollop or two on a few glasses of punch.
Banana Whipped Cream
2 cups of heavy whipping cream
1 1/2 teaspoons banana flavoring
1/2 cup sugar
Blend all ingredients until cream is thick and peaks.
Let cupcakes cool completely. With a sharp knife cut a nickle size slice off the top of the cupcake and remove "lid" use the knife to kind of stir around in the cupcake to make the hole bigger and dump crumbs out. Spoon in a generous amount of whipped cream and replace lid. They don't have to be pretty, you are putting frosting over them. :)
To frost them, I made a basic butter cream, however if I were making these for adults I would have used a rum butter cream. Either way they work.
Rum Butter Cream Frosting
8 cups of sifted confectionery sugar
1 teaspoon vanilla extract
Beat butter until creamy, add 4 cups of sugar and mix well, add wet ingredients, mix. Add remaining sugar and pipe on to cupcakes.
For the regular
butter cream
sub rum for milk.