Kitschy Quesadillas, it's fun to say isn't it? These are very filling and can easily be made vegetarian by leaving out the chicken. I would actually prefer it that way, but my husband will complain if I don't at least put in a little meat for show.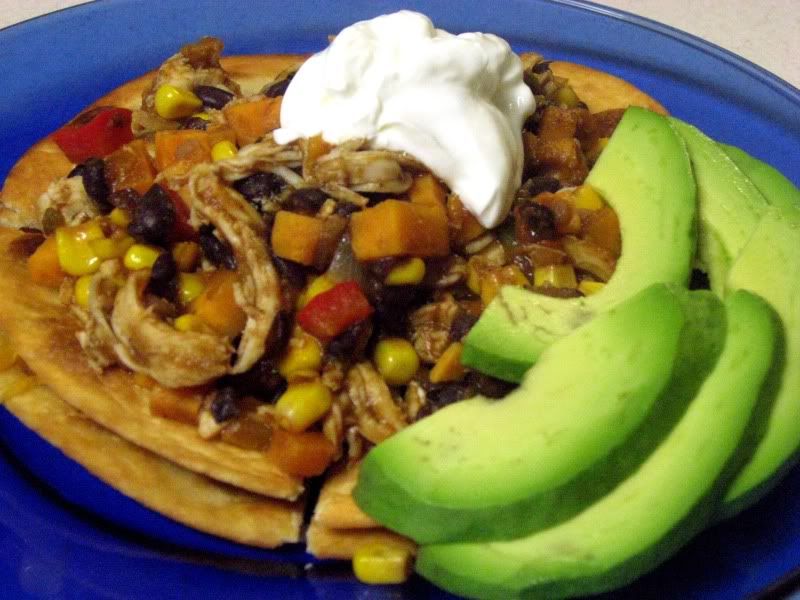 ~serves 6
1 boneless, skinless breast of chicken (optional)
1 small sweet potato (chopped)
1/4 cup chopped onion
1/3 cup chopped red bell pepper
1/3 cup chopped yellow bell pepper
1 10oz bag frozen corn
1 can black beans drained
1 cup Pace Picante Sauce (mild) or your favorite homemade salsa
2 teaspoons ground cumin
1 teaspoon chili powder
pinch ground red pepper
1 clove garlic minced
12 small tostada sized flour tortillas
2 tablespoons olive oil
1/2 cup vegetable oil
3 cups shredded cheese
Set oven on broil.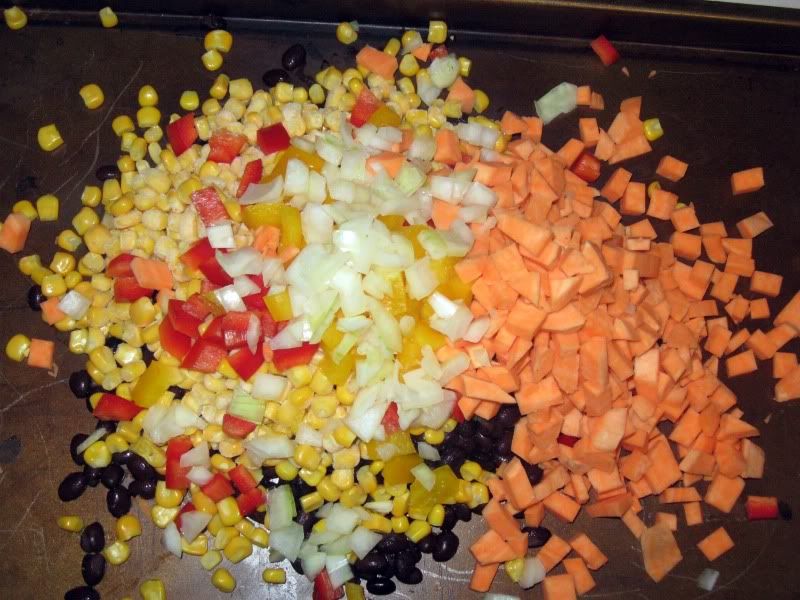 On an ungreased cookie sheet, combine corn, sweet potato, onion, peppers, and beans. Add olive oil and 1 teaspoon of the ground cumin and mix with your hands.
Broil in the oven for 10 minutes.
Fill a sauce pan with water, place chicken breast in and heat on medium/high heat until boiling. (If you plan to omit the chicken, you can omit the rest of the spices as well) Once chicken is boiling continue to boil for 5 minutes and drain. Break the chicken up to help it cool enough to be handled. If you chicken is still pink in the middle, don't worry we will be cooking it again.
Once cooled enough to handle, break apart with your hands. Add remaining, cumin, garlic, chili powder, and ground red pepper and stir on medium heat for about 5 minutes or until no longer pink.
In a deep saute pan, preheat vegetable oil on medium heat. Lightly fry each side of each tortilla to a golden brown and place on paper towels to drain.
Once your vegetables have come out of the oven, set your temp to 350. Place vegetables in a sauce pan and add picante sauce. Bring to a boil, then turn down to low and simmer, covered for 20-25 minutes or until sweet potatoes are tender. Once they vegetables are done you can mix in the chicken if you chose to use it.
Place half the tortillas on cookie sheets and top with cheese. Cover with a second tortilla and place in the oven for 10 minutes.
Cut quesadillas and top with vegetable mixture. Serve with avocado and sour cream if you wish.