We had a great time. My brother in law, Scott made a Peanut butter, bacon, and banana cupcake. My niece's husband and her father made something that was a little like Teramisu, and my niece and I took first place with our peanut butter cup cupcake. Here is our recipe along with some pictures from the event.
Gluten Free Peanut Butter Cup Cupcakes
Chocolate Cupcakes
makes 16 cupcakes ~350 oven
1 stick butter, room temp
1 cup + 4 tablespoons sugar
2 large egg, room temp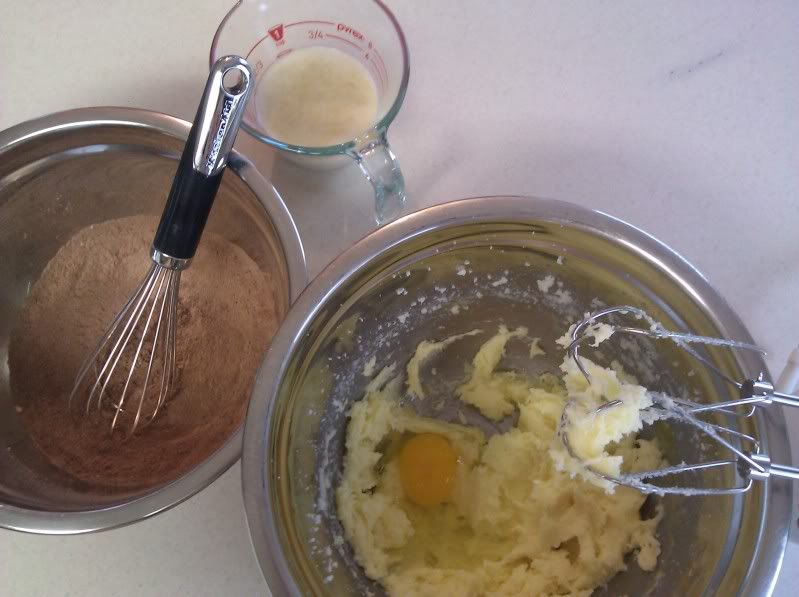 1/2 cup + 4 tablespoons Gluten Free Pantry all purpose flour
1 teaspoon potato flour
1 teaspoon xanthan gum
1/2 teaspoon baking powder
1/4 teaspoon baking soda
1/4 teaspoon salt
1/2 cup high quality unsweetened cocoa powder like Valrhona brand
3/4 cup milk
1 teaspoon vanilla
1. Beat butter until softened. Add sugar and beat until light and fluffy, about 3 minutes.
2 Add egg and beat until well combined.
3. Combine dry ingredients in a bowl and whisk together.
4. Measure out the milk and vanilla and stir to combine
5. Add about a third of the dry ingredients to the butter/sugar and beat to combine. Add about a half of the milk/vanilla and beat to combine. Continue adding, alternating between dry and wet and finishing with the dry.
6. Scoop batter into cupcake cups about 2/3's full. Bake cupcakes for about 22-25 minutes or until a cake tester comes out clean.
Filling
1/4 cup of heavy whipping cream
1 tablespoon confectionery sugar
1/2 teaspoon cocoa powder
1 teaspoon creamy peanut butter (do not use an organic or natural peanut butter for this, I tried it, it's gross)
Cream all ingredients together
Chocolate decoration
1 4oz bar Ghiradelli Milk Chocolate
1 4 oz bar Ghiradelli Semi Sweet Chocolate
6 tablespoons butter
1 teaspoon vanilla
Place metal bowl over pot of boiling water. Add chocolate broken up. Add 3 tablespoons of butter and stir until melted and combined. Remove from heat and add remaining butter and vanilla. Stir until well incorporated. Pour chocolate in to foil cupcake papers and put in refrigerator to cool.
Frosting
1/2 cup of heavy whipping cream
1/2 cup brown sugar
1/2 teaspoon vanilla
2 tablespoons cocoa powder
2 teaspoons peanut butter
Cream all ingredients together.
Assembly
Let cupcakes cool completely. With a sharp knife cut a nickle size slice off the top of the cupcake and remove "lid" use the knife to kind of stir around in the cupcake to make the hole bigger and dump crumbs out. Spoon in a generous amount of filling and replace lid. They don't have to be pretty, you are putting frosting over them. :)


Put a small amount of frosting on top of the cupcake to help adhere your chocolate form. Peel foil away from your chocolate decoration and place on top of the cupcake, frost the top of your faux peanut butter cup.
Here are some pictures from the Bake Off
I wanted to post all the recipes, but non of the contestants would share. lol