If you have been reading my blog at all then you know I love Day of the Dead. I came up with the idea of these, this summer and have been counting down the days to when I could make them. They didn't turn out quite the way I hoped, but I'm going to make a few little adjustments to them and that should do the trick. I am making them again in two weeks for the Hispanic Heritage Comity here in Aurora. They are also part of my
big giveaway!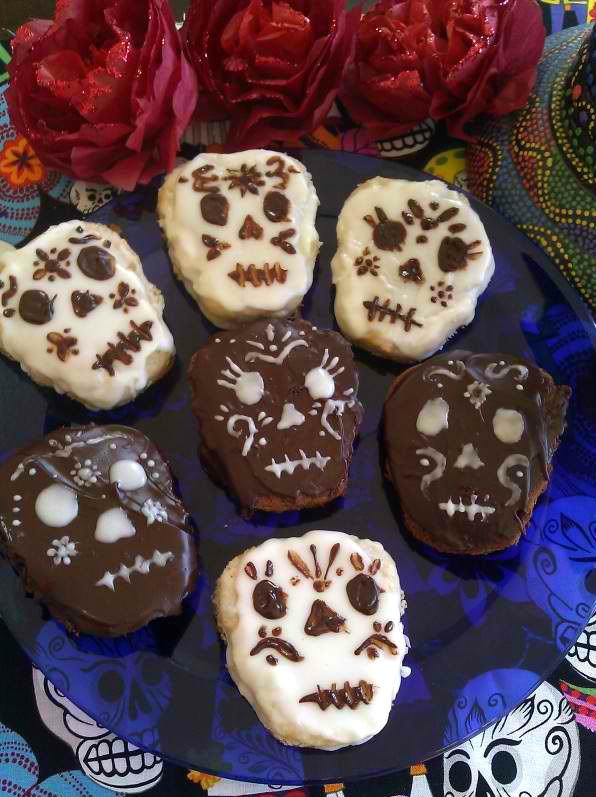 Every year Target has some sort of cookie cutter shaped like a skull. I bought the one I used 3 years ago. This year they have one with crossbones that would work just as well. Everyone likes frosted cookies, but frosted mini cakes are fun too! You pour your batter on to a 12x18 baking pan and when it cools stamp out your cakes. If you are going to make these at home I would advise to ice them all with the Horchata icing and not the ganache. The chocolate on chocolate is just too much chocolate for me. The chocolate is also too powerful to put on the Horchata flavor, it will over power them. Also the chocolate was easier to paint with than the icing. Just my recommendations. I will be making them that way for the comity meeting.
Quezacotl Skull Cakes
2 sticks of butter (room temperature)
4 eggs (room temperature)
2 1/2 cups sugar
1 3/4 cups flour
1 teaspoon baking powder
1/2 teaspoon baking soda
1/2 teaspoon salt
1 cup of high quality unsweetened cocoa powder
3 tablespoons cinnamon
1 teaspoon cayenne peeper
1/2 teaspoon ground chipoltle pepper
1 cup of milk
2 teaspoons vanilla
In a large bowl, cream butter and sugar together, beat for three minutes. Add eggs one at a time beating between each.
In a separate bowl combine whisk flour, baking powder, baking soda, salt, cocoa, and spices until well combined
Measure out milk and add vanilla.
Add 1/3 dry mix to egg, butter, and sugar mixture and beat. Add 1/3 of the vanilla milk and blend well. continue to alternate between wet and dry in thirds, mixing between each until finished.
Pour batter on to a greased and floured baking pan.
Bake at 350 for 22 to 25 minutes.
Be sure to only fill 2/3 of the way to the top of the pan and keep it as even as possible. You don't want it to over flow. I had enough batter left over to make 6 cupcakes.
Horchata Skulls
1 stick butter (room temperature)
1-1/2 cups sugar
2 cups all purpose flour
2 teaspoons baking powder
1/2 teaspoon salt
1 cup horchata (you can purchase this at most burritos shops, ask for no ice)
1 teaspoon vanilla extract
1 teaspoon cinnamon
4 large egg whites
Cream butter and sugar for 3 minutes.
In a separate bowl whisk together dry ingredients. Measure out Horchata and add vanilla. In another bowl whip egg whites until soft peaks form.
Alternate adding dry and wet ingredients by thirds to the sugar and butter mixture, beat well between each.
Fold in egg whites. Pour batter in to a greased and floured 12x18 pan. I did not have any left over.
Horchata Icing
5-6 cups confectionery sugar
1 cup horchata
Mix until thick and pasty.
Quezacotl Ganache
4oz Ghiradelli 60% bar
4oz Ghiradelli Semi Sweet bar
6 tablespoons butter
1 teaspoon vanilla
1 teaspoon cinnamon
Using a double boiler or a metal bowl on top of a pot of boiling water. Melt chocolate and half the butter. Remove from heat, add remaining butter, vanilla and spices.
stamp out cakes with cookie cutter and place on wire racks once cooled. Spoon horchata icing over them generously.
Using a tooth pick or paint brush, decorate with chocolate.
If you are not in to the Day of the Dead look, you can just as easily make them plain skulls for Halloween. If you want to get really creative, you can color the icing with food color and make colorful elaborate designs instead of using the chocolate.