Appetizer #8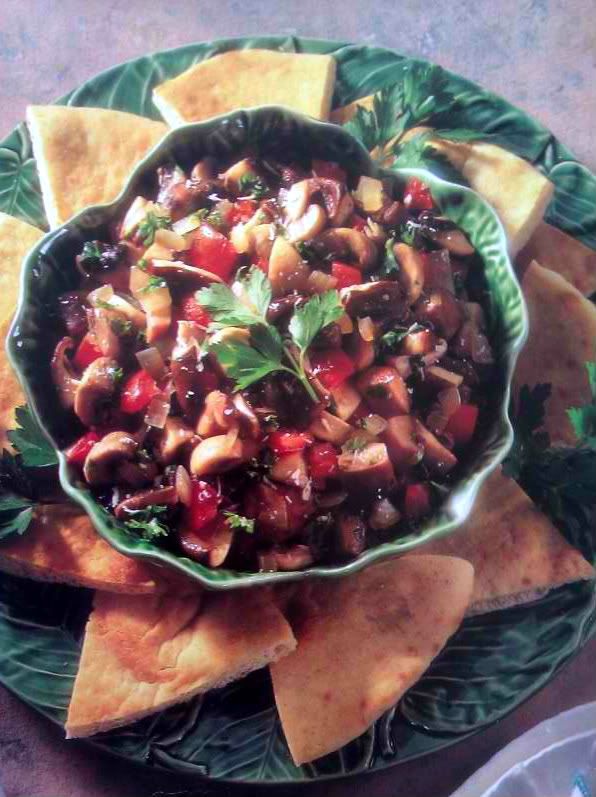 Three Mushroom Ratatouille
3 1/2 oz fresh shiitake mushrooms caps chopped (discard stems)
1 tablespoon olive oil
1 large onion chopped
4 cloves garlic minced
6 oz button mushrooms chopped
6 oz crimini mushrooms chopped
1 cup chicken broth
1 small tomato chopped
2 tablespoons chopped parsley
2 tablespoons grated parmesan
3 pita breads (6 inches each)
Preheat Broiler. Split each pita bread horizontally in half. stack the halves and cut the stack in to 6 wedges.
Heat oil in a large skillet over medium heat. Add onion and garlic. Cook for 5 minutes stirring occasionally. Add all mushrooms cook for 5 minutes more stirring often. Add chicken broth and bring to a boil. Cook for about ten minutes or until liquid is absorbed. Remove from heat. Stir in tomato, parsley and cheese. Spoon in to serving bowl.
Arrange pita wedges in a single layer on a cookie sheet. Broil 1-3 minutes or until wedges are toasted. Serve warm.