My son's first birthday was on Tuesday, and this Saturday we are having the party. Like most of America we are on a strict budget and even considered not having a party at all. We have about 12 to 14 family members coming and I was wondering, how can I make this cute without spending any money,
okay maybe a little money. The theme of his part is "Little Monster" I decided in side walk chalk on our back deck I would make a mural. I did it for my daughter's birthday party this year and it looked great. She had a "Tangled Kingdom" Party. I went to the dollar store to pick up matching red plates and napkins. I ordered some plain silver Mylar balloons, a dollar each. I bought a paint marker so I can draw eyeballs and teeth on the balloons to fit with the monster theme. I will be making monster cupcakes, but today I had my 3 year old daughter make the most important decorations. Construction paper monster, instead of streamers. I had everything laid out for her. I made some bodies from a large sheet of construction paper. Out of felt I cut out teeth, mouths, and eyebrows. I had a few bags of googly eyes, and pom poms for noses. I cut out strips of paper and folded them accordion style for arms and legs.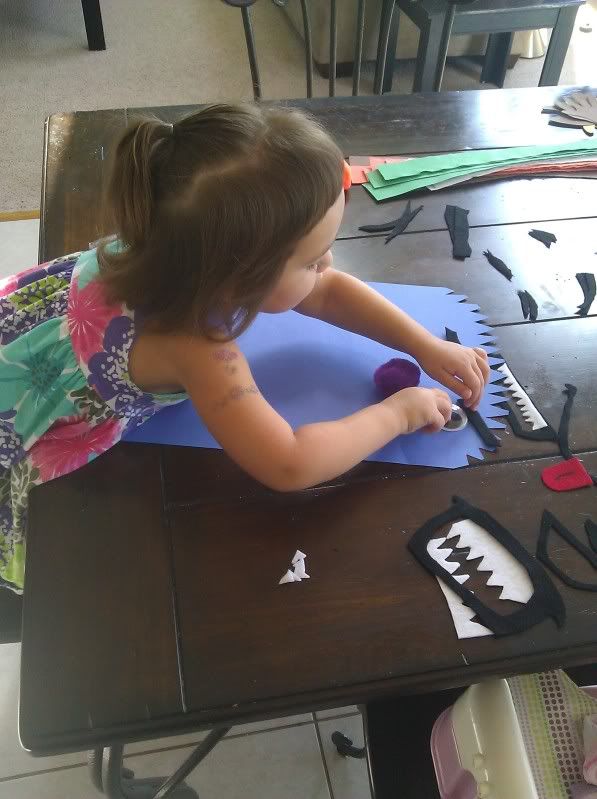 I had stacks of feet and hands for her to chose from and I let her go to town. Now a far less lazy mom could easily cut out extra, because as we know monsters can have many arms, and eyes, and mouths. I was conservative because I have no money or time. Letting Eve make the monsters was the greatest idea ever! They came out super cute and she is really proud of them. She did a great job. I can't wait to hang them from the ceiling, they are going to look great. I still have a menu to plan, which I'll do tonight, and a cupcake recipe to come up with. So far so good.