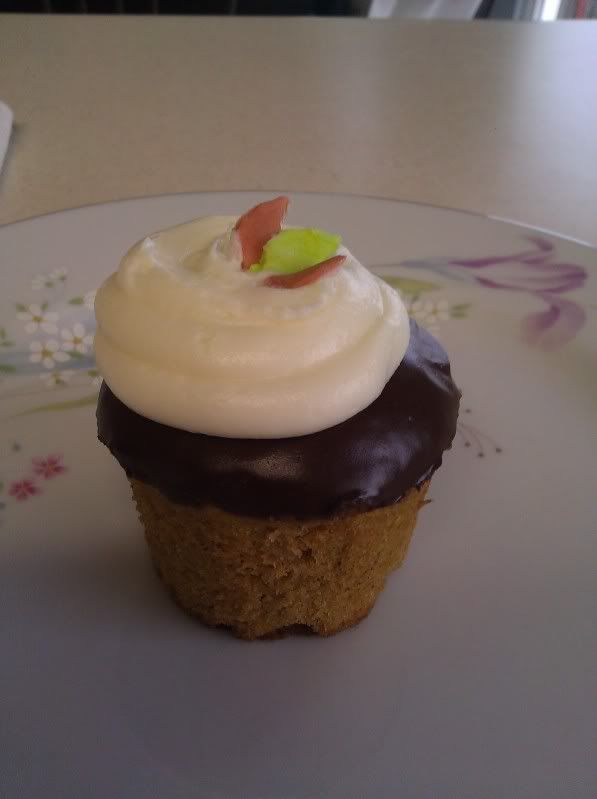 I originally had no intention of doing a pumpkin cupcake this year. I have so many ideas for fall, with the skull cakes and the apple cider cupcakes and I thought pumpkin was just too predictable. I was talking to my friend Greta, about a beer and pumpkin cupcake she was creating and it got me in the mood. The result was great. I'm sure the ladies at my daughter's preschool will be happy to know these are going to them tomorrow morning. I plan to make them again for Thanksgiving, however I will be making them gluten free for that event. They weren't overly sweet, which is just how I like my cupcake and frankly the cupcake itself could easily be converted in to a pumpkin bread.
Pumpkin Cupcakes
350 oven 25 minutes
2 cups flour
1 teaspoon baking soda
1 teaspoon baking powder
1 teaspoon salt
1 teaspoon cinnamon
1 teaspoon nutmeg
1 teaspoon ginger
1/4 teaspoon allspice
1 cup brown sugar packed
1 cup granulated sugar
4 eggs
2 sticks melted butter unsalted
1 15oz can pumpkin puree
In a large bowl whisk together spices, flour baking soda, baking powder, and salt. Add both sugars slowly ad whisk so there are no lumps.
In a separate bowl beat eggs with an electric mixer until yokes and whites are combined. Add pumpkin puree and mix. Add melted butter and mix again. Slowly add dry ingredients and mix until well combined.
Fill cupcake papers 3/4 full and bake for 25 minutes.
Once cupcakes are done and cooled you can make the ganache
Ganache
1 4 oz Ghiredelli Semi Sweet bar
1 4oz Ghiredeli 60% bar
6 tablespoons of butter (room temperature)
1 teaspoon vanilla
Using a double boiler (or a pot of boiling water with a metal bowl on top) Melt chocolate with half the butter. Remove from heat, add remaining butter and add vanilla.
While ganache is hot dip each cupcake in to the ganache and set aside to cool.
The ganache will get firm and glossy as it cools it's a great presentation. Don't be afraid of ganache if you haven't worked with it before, it's unbelievably easy.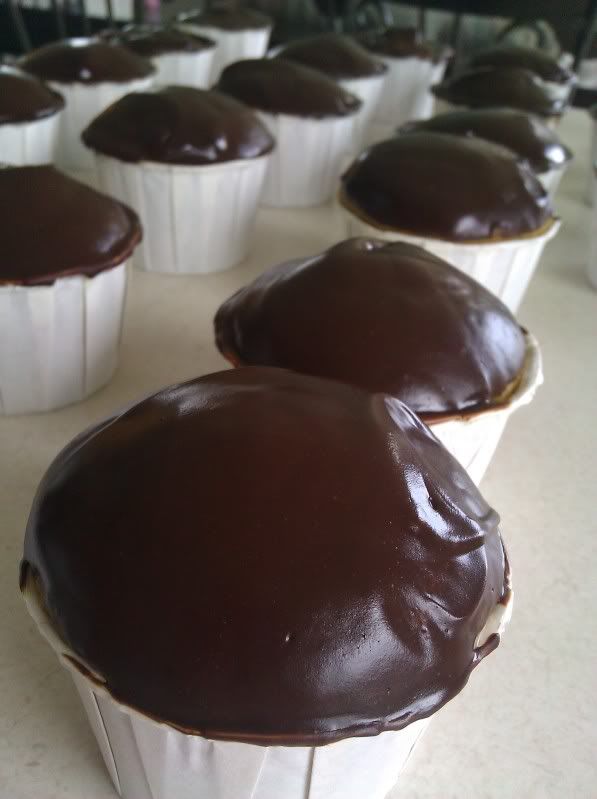 Cream Cheese Frosting
8oz softened cream cheese
6 tablespoons butter
4 cups powdered sugar
1 teaspoon vanilla
Combine all ingredients.
I didn't want a super stiff and sweet frosting for this cupcake, so I wouldn't recommend a fancy piping job. I used a round tip and I got a great presentation. I made little leaves out of marshmallow fondant to top the cupcakes, and I frosted them slightly in from the edge, so you would see the chocolate.
They came out great, I can't wait to make them again for Thanksgiving.
If you are typically not great at presentation, this is a great cupcake to try, it really is easy to make them look good.